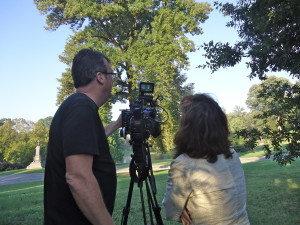 The national public television release of Trees in Trouble aired in most regions of the country near the end of April 2016. Broadcasts will continue across the nation, so check your local public television station website to find out more details on when it will be showing in your region.
But the broadcast is just one part of a much larger effort to get the word out that our trees need protection and help. Many community groups, schools and institutions are hosting screening events to raise awareness about the threats to our trees and why we must protect them. If you want to do a screening in your local community, we are here to help. You can purchase the video and a community screening agreement through Bullfrog Films at: www.bullfrogfilms.com.
Also check out the downloadable Event Planning Guide.
If you would like filmmaker Andrea Torrice to speak at your event, contact us directly or call us at (513) 751-7050.
State/Area
PBS Channel
Air Date
Air Time
For more info
NATIONWIDE
World Channel
Tues., April 26
Wed., April 27
9:30pm EST
1:30am EST, 9:30am EST, 3:30pm EST
worldchannel.org
Alabama
World Channels
Tues. April 26
Wed. April 27
Sat. April 30
Sun. May 1
8:30pm
12:30am
10:30pm
2:30am
aptv.org
Alaska – Anchorage
KAKM & KAKM3
Tues. April 5
Mon. April 11
Tues. April 12
Sat. April 16
Sun. April 17
Tues. April 19
10:30pm
9:00pm
5:00am, 7:00am
6:30am
4:00am
9:00am, 3:00pm
www.alaskapublic.org
Alaska -Fairbanks
KUAC World Channel
Tues. April 26
Wed. April 27
Sat. April 30
Sun. May 1
9:30pm
5:30am
7:30pm, 11:30pm
6:30am, 2:30pm
www.alaskapublic.org
Alaska – Juneau
KKTOO3
Mon. April 11
Tues. April 12
Sat. April 16
Sun. April 17
Tues. April 19
9:00pm
5:00am, 7:00am
6:30am
4:00am
9:00am, 3:00pm
www.alaskapublic.org
Arkansas
World Channels
Sun. April 10
Tues. April 26
Wed. April 27
Sat. April 30
Sun. May 1
11:30pm
8:30pm
12:30am
10:30pm
2:30am, 5:30pm
www.aetn.org
Arizona
KUAT World Channel & Public Media UA Channel
Wed. April 20
Thur. April 21
Tues. April 26
Wed. April 27
Sat. April 30
Sun. May 1
10:00pm
5:00am
9:30pm
1:30am, 9:30am, 3:30pm
11:30pm
3:30am, 10:30am, 6:30pm
www.azpbs.org
California – Chico/Redding
KIXE World Channel
Tues. April 26
Wed. April 27
Sat. April 30
Sun. May 1
6:30pm, 10:30pm
6:30am, 12:30pm
8:30pm
12:30am, 7:30am, 3:30pm
www.kixe.org
California – Eureka
KEET World Channel
Tues. April 26
Wed. April 27
Sat. April 30
Sun. May 1
6:30pm, 10:30pm
6:30am, 12:30pm
8:30pm
12:30am, 7:30am, 3:30pm
www.keet.org
California – Los Angeles
KOCE
Tues. April 26
Wed. April 27
Sat. April 30
Sun. May 1
6:30pm, 10:30pm
6:30am, 12:30pm
8:30pm
12:30am, 7:30am, 3:30pm
www.pbssocal.org
California – Sacramento
KVIE World Channel
Tues. April 26
Wed. April 27
Sat. April 30
Sun. May 1
6:30pm, 10:30pm
6:30am, 12:30pm
8:30pm
12:30am, 7:30am, 3:30pm
www.kvie.org
California – San Francisco/San Jose
KQED World
Wed. April 27
Sun. May 1
6:30am, 12:30pm, 8:30pm
12:30am
kqed.org
Florida – Ft Myers/Naples
WGCU World Channel
Tues. April 26
Wed. April 27
Sat. April 30
Sun. May 1
9:30pm
1:30am, 9:30am, 3:30pm
11:30pm
3:30am, 10:30am, 6:30pm
www.wgcu.org
Florida – Gainesville
WUFT World Channel
Tues. April 26
Wed. April 27
Sat. April 30
Sun. May 1
9:30pm
1:30am, 9:30am, 3:30pm
11:30pm
3:30am, 10:30am, 6:30pm
www.wuft.org
Florida – Jacksonville
WJCT World Channel
Tues. April 26
Wed. April 27
Sat. April 30>
Sun. May 1
9:30pm
1:30am, 9:30am, 3:30pm
11:30pm
3:30am, 10:30am, 6:30pm
www.wjct.org
Florida – Miami/Ft Lauderdale
WPBT World Channel
Wed. April 27
Sun. May 1
1:30am, 9:30am
3:30am, 10:30am
www.wpbt2.org
Florida – Orlando
WUCF World Channel
Tues. April 26
Wed. April 27
Sat. April 30
Sun. May 1
9:30pm
1:30am, 9:30am, 3:30pm
11:30pm
3:30am, 10:30am, 6:30pm
www.wucftv.org
Florida – Tampa
WEDU World Channel
Wed. April 27
Sun. May 1
9:30am, 3:30pm
10:30am, 6:30pm
www.wedu.org
Florida – West Palm Beach
WXEL World Channel
Wed. April 27
Sat. April 30
Sun. May 1
9:30am, 3:30pm
11:30pm
3:30am, 10:30am, 6:30pm
www.wxel.org
Georgia – Atlanta
WGTV World Channel
Tues. April 26
Wed. April 27
Sat. April 30
Sun. May 1
9:30pm
1:30am, 9:30am, 3:30pm
11:30pm
3:30am, 10:30am, 6:30pm
www.gpb.org
Georgia – Chattanooga/Chatsworth
WNGH World Channel
Tues. April 26
Wed. April 27
Sat. April 30
Sun. May 1
9:30pm
1:30am, 9:30am, 3:30pm
11:30pm
3:30am, 10:30am, 6:30pm
www.gpb.org
Georgia – Columbus
WJSP World Channel
Tues. April 26
Wed. April 27
Sat. April 30
Sun. May 1
9:30pm
1:30am, 9:30am, 3:30pm
11:30pm
3:30am, 10:30am, 6:30pm
www.gpb.org
Georgia – Macon
WMUM World Channel
Tues. April 26
Wed. April 27
Sat. April 30
Sun. May 1
9:30pm
1:30am, 9:30am, 3:30pm
11:30pm
3:30am, 10:30am, 6:30pm
www.gpb.org
Georgia – Savannah
WVAN World Channel
Tues. April 26
Wed. April 27
Sat. April 30
Sun. May 1
9:30pm
1:30am, 9:30am, 3:30pm
11:30pm
3:30am, 10:30am, 6:30pm
www.gpb.org
Idaho
Idaho Public Television (NPT)
Sun. March 13
Tues. April 26
Wed. April 27
Sat. April 30
Sun. May 1
1:30am
11:30pm
7:30am, 1:30pm
9:30pm
8:30am, 4:30pm
idahoptv.org
Illinois – Chicago
WTTW-C
Tues. April 26
Wed. April 27
Sat. April 30
Sun. May 1
10:30pm
12:30am
10:30pm
2:30am
www.wttw.com
Illinois – Carbondale
WSIU World Channel
Tues. April 26
Wed. April 27
Sat. April 30
Sun. May 1
8:30pm
12:30am, 8:30am, 2:30pm
10:30pm
2:30am, 9:30am, 5:30pm
www.wsiu.com
Illinois – Champaign/Urbana
WILL World Channel
Tues. April 26
Wed. April 27
Sat. April 30
Sun. May 1
8:30pm
12:30am, 8:30am, 2:30pm
10:30pm
2:30am, 9:30am, 5:30pm
will.illinois.edu
Illinois – Jacksonville
WSEC World Channel
Tues. April 26
Wed. April 27
Sat. April 30
Sun. May 1
8:30pm
12:30am, 8:30am, 2:30pm
10:30pm
2:30am, 9:30am, 5:30pm
www.networkknowledge.tv
Illinois – Peoria
WTVP World Channel
Tues. April 26
Wed. April 27
Sat. April 30
Sun. May 1
8:30pm
12:30am, 8:30am, 2:30pm
10:30pm
2:30am, 9:30am, 5:30pm
www.wtvp.org
Indiana – Bloomington
WTIU World Channel
Tues. April 26
Wed. April 27
Sat. April 30
Sun. May 1
9:30pm
1:30am, 9:30am, 3:30pm
11:30pm
3:30am, 10:30am, 6:30pm
indianapublicmedia.org
Indiana – Indianapolis
WFYI
Thur. April 14
10:30pm
www.wfyi.org
Iowa
Iowa Public TV World Channel
Sat. April 30
Sun. May 1
10:30pm
9:30am
site.iptv.org
Louisiana – New Orleans
WYES-2
Tues. April 26
Wed. April 27
Sat. April 30
Sun. May 1
8:30pm
12:30am, 8:30am, 2:30pm
10:30pm
2:30am, 9:30am, 5:30pm
wyes.org
Maine
WCBB World Channel
Tues. April 26
Wed. April 27
Sat. April 30
Sun. May 1
9:30pm
1:30am, 9:30am, 3:30pm
11:30pm
10:30am, 6:30pm
wgbh.org
Massachusetts – Boston
WGBH World Channel
Tues. April 26
Wed. April 27
Sat. April 30
Sun. May 1
9:30pm
1:30am, 9:30am, 3:30pm
11:30pm
3:30am, 10:30am, 6:30pm
wgbh.org
Massachusetts – Springfield
WGBY World Channel
Tues. April 26
Wed. April 27
Sat. April 30
Sun. May 1
9:30pm
1:30am, 9:30am, 3:30pm
11:30pm
3:30am, 10:30am, 6:30pm
wgby.org
Michigan – Detroit
WTVS 2
Tues. April 26
Wed. April 27
Sat. April 30
Sun. May 1
9:30pm
1:30am, 9:30am, 3:30pm
11:30pm
3:30am, 10:30am
dptv.org
Michigan – East Lansing
WKAR World Channel
Tues. April 26
Wed. April 27
Sun. May 1
9:30pm
1:30am, 9:30am, 3:30pm
3:30am, 10:30am
www.wkar.org
Michigan – Flint
WDCQ
Thur. April 21
9:00pm
www.deltabroadcasting.org
Michigan – Kalamazoo/Grand Rapids
WGVU
Sat. April 16
Tues. April 26
4:30pm
11:30pm
www.wgvu.org
Minnesota – Appleton
KWCM-4
Tues. April 26
Wed. April 27
Sat. April 30
Sun. May 1
8:30pm
12:30am, 8:30am, 2:30pm
10:30pm
2:30am, 9:30am, 5:30pm
pioneer.org
Minnesota – Milwaukee
Milwaukee Public Television World Channel
Tues. April 26
Wed. April 27
8:30pm
12:30am, 8:30am, 2:30pm, 10:30pm
mptv.org
Missouri – St. Louis
KETC World Channel
Tues. April 26
Wed. April 27
Sat. April 30
Sun. May 1
8:30pm
12:30am, 8:30am, 2:30pm
10:30pm
2:30am, 9:30am, 5:30pm
ninenet.org
Montana
Montana Public Television World Channel
Wed. April 6
Mon. April 25
Tues. April 26
Wed. April 27
Sat. April 30
Sun. May 1
1:00am
3:30am
7:30pm, 11:30pm
7:30am, 1:30pm
9:30pm
1:30am, 8:30am, 4:30pm
www.montanapbs.org
Nebraska
Nebraska Educational Television (NET) & World Channel
Wed. April 6
Sun. April 10
Wed. April 27
Sat. April 30
Sun. May 1
10:30pm
4:30pm
12:30am, 8:30am, 2:30pm
10:30pm
5:30pm
netnebraska.org
New Hampshire
NHPTV World Channel
Tues. April 26
Wed. April 27
Sat. April 30
Sun. May 1
9:30pm
1:30am, 9:30am, 3:30pm
11:30pm
3:30am, 10:30am, 6:30pm
www.nhptv.org
New Mexico
KNME World Channel
Wed. April 27
Thur. April 28
Sun. May 1
7:30am, 1:30pm
10:30pm
1:30am, 8:30am
www.newmexicopbs.org
New York – Albany/Troy
WMHT Channel
Tues. April 26
Wed. April 27
Sat. April 30
Sun. May 1
9:30pm
1:30am, 9:30am, 3:30pm
11:30pm
3:30am, 10:30am, 6:30pm
www.wmht.org
New York – Binghamton
WSKG World Channel
Tues. April 26
Wed. April 27
Sat. April 30
Sun. May 1
9:30pm
1:30am, 9:30am, 3:30pm
11:30pm
3:30am, 10:30am, 6:30pm
www.wskg.org
New York – Buffalo
WNED's ThinkBright Channel
Tues. April 26
Wed. April 27
Sat. April 30
Sun. May 1
9:30pm
1:30am, 9:30am, 3:30pm
11:30pm
3:30am, 10:30am, 6:30pm
www.wned.org
New York – New York
WLIW World Channel
Tues. April 26
Wed. April 27
Sun. May 1
9:30pm
1:30am, 9:30am, 3:30pm, 11:30pm
3:30am, 10:30am, 6:30pm
www.wliw.org
New York – Rochester
WXXI World Channel
Tues. April 26
Wed. April 27
Sat. April 30
Sun. May 1
9:30pm
1:30am, 9:30am, 3:30pm
11:30pm
3:30am, 10:30am, 6:30pm
www.wxxi.org
New York – Syracuse
WCNY World Channel
Fri. April 15
Tues. April 26
Wed. April 27
Sat. April 30
Sun. May 1
10:00pm
9:30pm
1:30am, 9:30am, 3:30pm
11:30pm
3:30am, 10:30am, 6:30pm
www.wcny.org
North Carolina
UNCTV's NC Channel
Mon. May 2
Tues. May 3
10:00pm
4:00am, 1:00pm
www.unctv.org
North Dakota
North Dakota PBS World Channel
Tues. April 26
Wed. April 27
Sat. April 30
Sun. May 1
8:30pm
12:30am, 8:30am, 2:30pm
10:30pm
2:30am, 9:30am, 5:30pm
www.prairiepublic.org
Ohio – Cincinnati
WCET
Sun. March 27
3:30pm
www.cetconnect.org
Ohio – Cincinnati
ThinkTV
Tues. April 19
Thurs. April 21
Fri. April 22
Sat. April 23
11:30pm
4:30am
4:30pm
11:30am
www.thinktv.org
Ohio – Cleveland
WVIZ World Channel
Tues. April 26
Wed. April 27
Sat. April 30
Sun. May 1
9:30pm
1:30am, 9:30am, 3:30pm
11:30pm
3:30am, 10:30am, 6:30pm
wviz.ideastream.org
Ohio – Athens/Columbus
WOUB-TV World Channel
Tues. April 26
Wed. April 27
9:30pm
1:30am, 9:30am, 3:30pm, 11:30pm
woub.org
Ohio – Bowling Green/Lima
WBGU & WBGU-2
Sun. April 10
Fr. April 22
Fri. April 29
7:30am
11:30am
1:30pm
wbgu.org
Ohio – Columbus
WOSU Public Media
Sun. April 17
Wed. April 27
4:00pm
4:30am
wosu.org
Ohio – Dayton
WPTD
Tues. April 19
Thur. April 21
Fri. April 22
Sat. April 23
11:30pm
4:30am
4:30pm
11:30am
www.thinktv.org
Ohio – Toledo
WGTE2
Fri. April 8
Sat. April 9
10:00pm
2:00am
www.wgte.org
Ohio – Portsmouth
WPBO
Sun. April 17
Wed. April 27
4:00pm
4:30am
www.wosu.org
Oklahoma
OETA
Tues. April 26
Wed. April 27
10:30pm
10:30am
www.oeta.tv
Oregon
Southern Oregon Public Television (SOPTV)
World Channels
Fri. March 4
Tues. April 26
Wed. April 27
Sat. April 30
Sun. May 1
11:00pm
6:30pm
6:30am, 12:30pm
8:30pm
12:30am, 7:30am, 3:30pm
soptv.org
Pennsylvania – Erie
WQLN World Channel
Wed. April 27
Sat. April 30
Sun. May 1
1:30am, 9:30am, 3:30pm
11:30pm
3:30am, 10:30am, 6:30pm
www.wqln.org
Pennsylvania – Johnstown/University Park
WPSU Info Channel
Wed. April 27
Sat. April 30
Sun. May 1
1:30am, 9:30am, 3:30pm
11:30pm
3:30am, 10:30am, 6:30pm
www.wpsu.org
Pennsylvania – Philadelphia
WHYY-2 and WHYY Info Channel
Tues. April 26
Wed. April 27
Sat. April 30
Sun. May 1
9:30pm
1:30am, 9:30am, 3:30pm, 11:30pm
3:30am, 10:30am, 6:30pm
www.whyy.org
Pennsylvania – Pittsburgh
WQED World Channel
Tues. April 26
Wed. April 27
Sat. April 30
Sun. May 1
9:30pm
1:30am, 9:30am, 3:30pm
11:30pm
3:30am, 10:30am, 4:30pm
www.wqed.org
South Dakota
South Dakota PBS World Channel
Tues. April 26
Wed. April 27
Sat. April 30
Sun. May 1
8:30pm
12:30am, 8:30am, 2:30pm
10:30pm
2:30am, 9:30am, 5:30pm
www.sdpb.org
Tennessee – Knoxville
WETP
Tues. April 26
Wed. April 27
Sat. April 30
Sun. May 1
9:30pm
1:30am, 9:30am, 3:30pm
11:30pm
3:30am, 10:30am
www.easttennesseepbs.org
Tennessee – Nashville/Cookeville
WCTE World Channel
Tues. April 26
Wed. April 27
Sat. April 30
Sun. May 1
8:30pm
12:30am, 8:30am, 2:30pm
10:30pm
2:30am, 9:30am
www.wcte.org
Tennessee – Memphis
WKNO-2
Wed. April 27
Sun. May 1
12:30am, 8:30am
2:30am, 9:30am
www.wkno.org
Texas – Austin
KLRU-Q
Sun. March 20
Tues. March 22
Fri. March 25
Sun. April 17
7:00am
9:30am
5:30am
6:30am
www.klru.org
Texas – Dallas
KERA World Channel
Tues. April 26
Wed. April 27
Sat. April 30
Sun. May 1
8:30pm
12:30am, 8:30am, 2:30pm
10:30pm
2:30am, 9:30am, 5:30pm
www.kera.org
Texas – San Antonio
KLRN World Channel
Wed. April 27
Sat. April 30
Sun. May 1
12:30am, 8:30am
10:30pm
2:30am, 9:30am
www.klrn.org
Texas – Waco/Temple/Kilieen
KNCT World Channel
Tues. April 26
Wed. April 27
Sat. April 30
Sun. May 1
8:30pm
12:30am, 8:30am, 2:30pm
10:30pm
2:30am, 9:30am, 5:30pm
www.knct.org
Utah – Salt Lake City/Richfield
KUED/KUES World Channel
Tues. April 26
Wed. April 27
Sat. April 30
Sun. May 1
7:30pm
1:30am, 7:30am, 1:30pm
9:30pm
1:30am, 8:30am, 4:30pm
www.kued.org
Vermont
Vermont PBS World Channel
Tues. April 26
Wed. April 27
Sat. April 30
Sun. May 1
9:30pm
1:30am, 9:30am, 3:30pm
11:30pm
3:30am, 10:30am, 6:30pm
www.vermontpbs.org
Virgin Islands
WTJX
Sat. April 23
6:30pm
www.wtjx.org
Virginia
Virginia Tech, WVPT, WVPY
Sun. April 17
5:30pm
www.wvpt.net
Virginia -Norfolk/Roanoke/Norton
WHRO World Channel/Blue Ridge World Channel
Tues. April 26
Wed. April 27
Sat. April 30
Sun. May 1
9:30pm
1:30am, 9:30am, 3:30pm
11:30pm
3:30am, 10:30am, 6:30pm
www.whro.net
West Virginia
West Virginia PBS
Wed. April 27
1:30am
wvpublic.org
Wyoming – Cheyenne
KTNE & KRNE World Channel
Wed. April 6
Sun. April 10
Wed. April 27
Sat. April 30
Sun. May 1
10:30pm
4:30pm
12:30am,8:30am, 2:30pm
10:30pm
5:30pm
netnebraska.org
---
Share this: